The 12 best wine cocktails you gotta try
10/12/2021 at 23:31 pm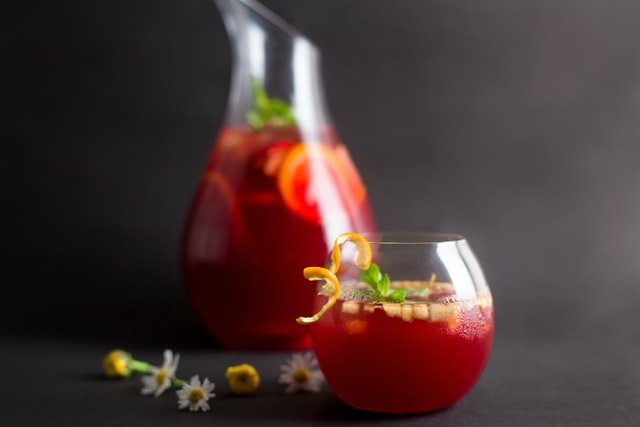 Picture taken from Unsplash
The Spanish red wine cocktail is wonderful and brings out the best of the red wine by giving it a citrus kick and adding fresh apples to it. With a touch of brandy or rum, what you get is a drink that is boozy, refreshing, sweet, and absolutely delicious. Whenever you are bored of drinking your wine on its own, this cocktail will come to the rescue and quench all your cocktail needs.
Ingredients:
Orange
Red Wine (preferably Spanish red wine)
Apples
Liquor (preferably rum or brandy)
Sweetener (brown sugar, maple syrup, regular sugar, or honey)
Ice
Recipe:
First, you chop up all your fruits. Grab that knife and get yourself some apple and orange slices.
The next step is to mix everything up; take a bowl or a jug and combine all the fruit slices, red wine, liquor, and orange juices and stir it up until everything is mixed well.
Then you decide whether you want your Sangria to be sweet or not. Add sweetener if you prefer your Sangria to be on the sweeter side.
Before serving you either add ice to your Sangria or put it in the freezer to chill it up. 
Last but not least, serve it up to yourself and your friends.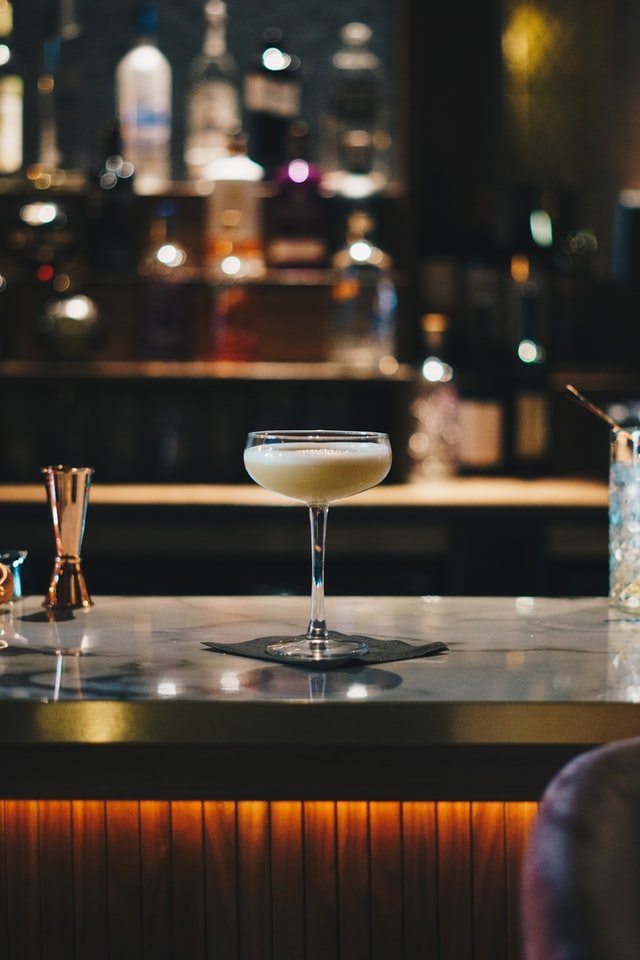 Photo by Unsplash
The champagne is the wine of celebrations. How about we give it a little twist and make it even more celebratory? That's where the classic champagne wine cocktail comes in. It gives your bubbly drink a lemony, sugary, and bitter twist.
Ingredients:
Champagne
Sugar
Angostura bitters
Orange or lemon twist for garnishing (optional)
Recipe:
Grab a champagne coupe or flute and fill it up with champagne around 3/4th of the glass.
Take a large sugar cube and soak it up with Angostura bitters and put it in your champagne and stir it up until it is mixed well.
Garnish your drink with lemon or orange peel.
Serve and enjoy!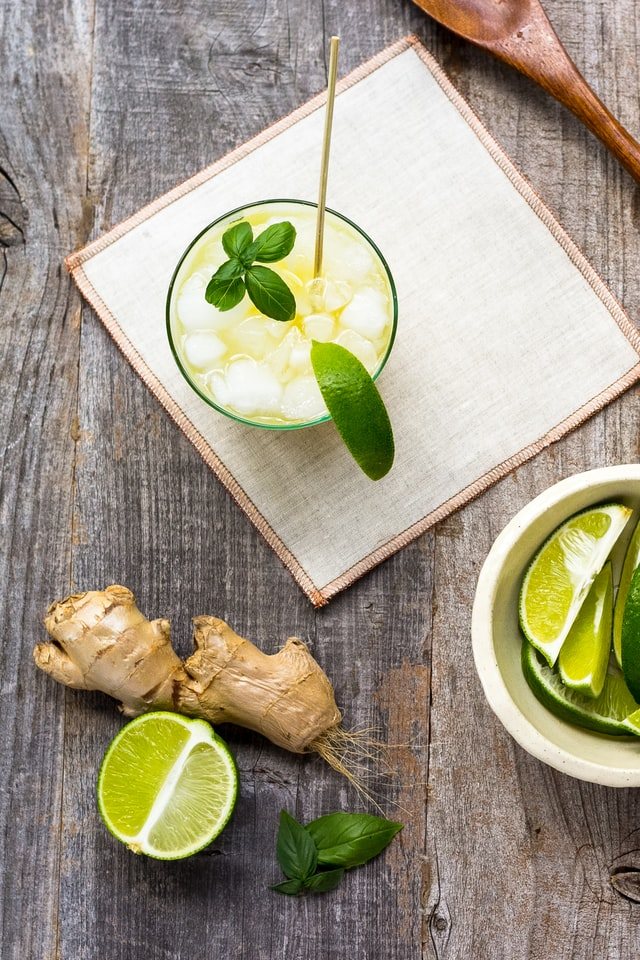 Photo taken from Unsplash
When it comes to going full hardcore mode with your white wine cocktails, Ginger Lime Spritz is the name that comes to mind. This is a ginger twist on your favorite sparkling white wines such as Prosecco. 
Ingredients:
Ginger
Lime juice
Syrup
Prosecco or any of your favorite sparkling white wine
Mint leaves
Club soda
Ice
Recipe:
Get yourself a medium-sized ginger piece, peel it, and put it into the grinder to make a ginger paste.
Add your ginger paste to the cocktail mixer, add syrup and lime juice to it, and finally add some ice to it and shake well until mixed.
Fill your serving glass with ice, pour your cocktail mixture, add sparkling white wine to it, and finish it off with club soda.
Stir it up, garnish with mint leaves, and serve!
Picture by Unsplash
What makes Sangria great is its versatility. In this drink, you replace the red wine with the sweet and delicate Rosé. The end result is a cocktail that is delicious, sweet, and refreshing to the core. 
Ingredients:
Rosé wine
Fruit: orange, lemon, and seasonal fruits
Liquor (brandy or rum is preferred)
Sweetener 
Ice
Recipe:
The first step is to chop up your fruits. Get a knife and start making some orange, lemon, and slices of whatever seasonal fruit is available to you.
Next, you mix everything up. Take a container and put your slices of fruit, add lemon and orange juice, rosé, liquor, and mix it well.
Add some sweetener if you want your drink to be sweet, skip it if you don't like added sugar in your drinks.
Add some ice to your mixture and serve!
 
Mimosa
Picture by Unsplash

Mimosa is one of those classic white wine cocktails that everyone loves. And why shouldn't they? It's delicious, refreshing, and very easy to make. All you need is sparkling white wine and some orange juice!
Ingredients:
Orange juice
Sparkling white wine
Recipe:
Grab some sparkling dry white wine and add orange juice to it.
Serve in champagne flutes.
That's it! What makes mimosas great is the simplicity of their recipe and their great taste. 
Related Post: Amaretto recipes: What can Amaretto liqueur be mixed with?
Picture by Yandex 
Unlike traditional Sangria, White Sangria utilizes white wine instead of red wine. What you get with this recipe is a white wine cocktail that is crisp with white wine, refreshing, and perfect for a summer afternoon. 
Ingredients:
White wine
Fruits: Orange, plums, and peaches
Syrup
Brandy
Ice
Mint and orange peel for garnish
Recipe:
Slice up all your fruits and put them in a jug.
Crush the fruits to release their juices.
Add syrup and brandy to the jug and mix it all up.
Serve in wine with a ton of crushed ice and garnish it with mint to end it all off.
Frosé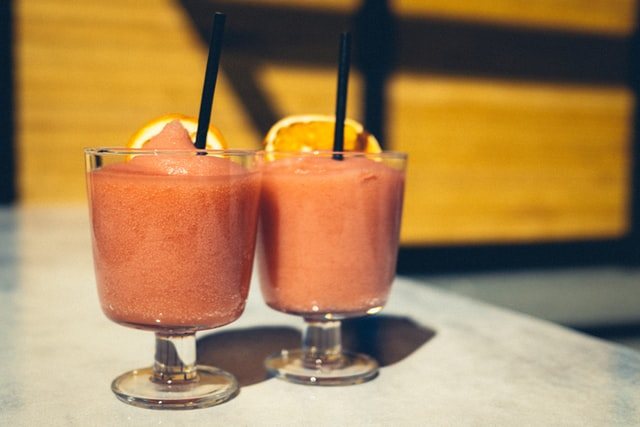 Photo by Unsplash
What's better than a Rosé? A frozen Rosé! This recipe brings you an adult version of a slushie. You get to taste the sweet and light Rosé with fresh strawberries. The perfect drink to sip scorching summer heat.
Ingredients:
Rosé
Strawberries
Sugar (you can also use honey or maple syrup)
Recipe:
Blend your Rosé, strawberries, and sugar.
Strain the blended mixture.
Pour the mixture in a flat stray and freeze it up for at least 6 hours
Serve it with a slice of orange!
White Wine Spritzer
Unsplash picture
White Wine Spritzer is one of the easiest white wine cocktails you can make! It's simple, it's refreshing, and it's delicious. Give your white wine a bubbly twist with this recipe!
Ingredients:
White wine
Club soda or sparkling water
Recipe:
Pour your favorite white wine into a wine glass
Add equal to 1/4th of the wine volume club soda into the glass
Serve with an orange twist!
Stone Fruit Sangria
As we've already established, Sangria comes with various recipes! This one is made with peaches, plums, and apricots. Give your Sangria a stone fruit twist with this delicious recipe!
Ingredients:
Stone fruit: peach, apricots, and plums
Orange
Lemon Juice
Red wine
Sugar
Brandy 
Orange peel
Mint
Ice
Recipe:
Cut your fruits into slices.
Smash the fruits and squeeze the juices out of them.
Add red wine, lemon and orange juice, brandy, and sugar into the crushed fruit mixture.
Pour it in a glass with crushed ice and serve!
Red Wine Spritzer

What makes this red wine cocktail the best is its simple recipe; all you need is your favorite red wine and some soda water! Make your own sparkling red wine cocktail with this recipe!
Ingredients:
A bottle of red wine
A can of club soda or a bottle of sparkling water
Recipe:
Grab a bottle of red wine and fill your glass halfway
Add an equal amount of club soda or sparkling water to it
Serve!
Watermelon Sangria
Picture from Yandex

This is another Sangria recipe with an added twist of sweet and juicy watermelon. When the watermelons are in season, this drink is the perfect way to enjoy your summer!
Ingredients:
Watermelon
White wine
Syrup
Lemon juice
Triple sec 
Ice
Recipe:
Get yourself 2 pounds of watermelon and blend it.
Strain and pour it in a container and add 4oz triple sec, 2oz of syrup, 750ml bottle of white wine, and half a cup of lemon juice.
Stir it up nicely and serve it in glasses with ice.
Finish it off by garnishing it with mint and skewered watermelon balls.
Aperol Spritz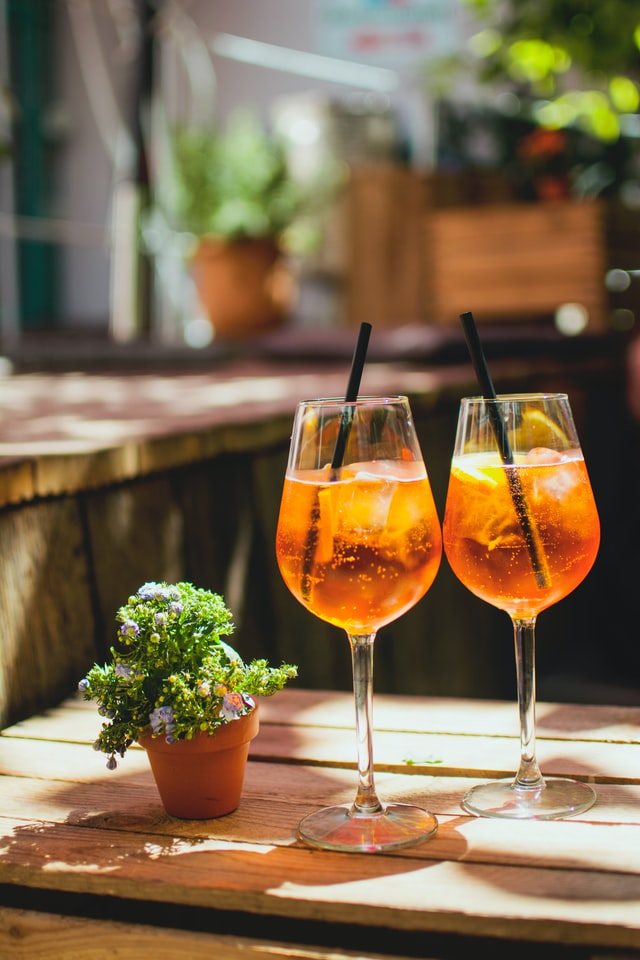 Picture from Unsplash
This sparkling white wine cocktail mixes up your favorite bubbly white wine with Aperol for a punchy and citrusy kick. The combination of the Italian aperitif and sparkling white wine comes with a crisp and refreshing drink that boozes you up!
Ingredients:
Sparkling white wine
Aperol
Sparkling water
Orange
Ice
Recipe:
Grab a bottle of your favorite sparkling white wine.
Pour it into a pitcher.
Add Aperol to your wine.
Add a touch of sparkling water.
Squeeze a slice of orange.
Serve it in a wine glass and garnish it with a slice of orange.