10 delicious gin cocktails you have to try this year
10/28/2021 at 21:31 pm
It should not come to you as a surprise to see the rapid evolution of the gin in recent times. Its subtle flavor profile makes it a versatile spirit to make some extraordinary cocktail recipes. Even the traditional Martini is a gin cocktail.
The love affair with gin has persuaded chefs and bartenders to create new and innovative gin cocktails for avid drinkers. Thankfully, gin cocktail recipes are relatively easy, and with a bit of knowledge, you can make them at your home!
You can try the best gin cocktail recipes at home without seeking advice from a bartender. All you need is to get the best gin cocktail recipe with the right ingredients in the right quantities.
Some of the best gin cocktail recipes that will blow away you and some popular ones are listed below:
Classic Martini
Unsplash Photo
Whenever you see a cocktail glass with a drink, the idea of a classic martini will pop up in your mind. Being the foundation for many other beverages, Martini is the most popular and straightforward gin cocktail that remains timeless throughout its origin. When made with the right ingredients in the correct quantity, Martini is the pinnacle of a great cocktail! 
Tom Collins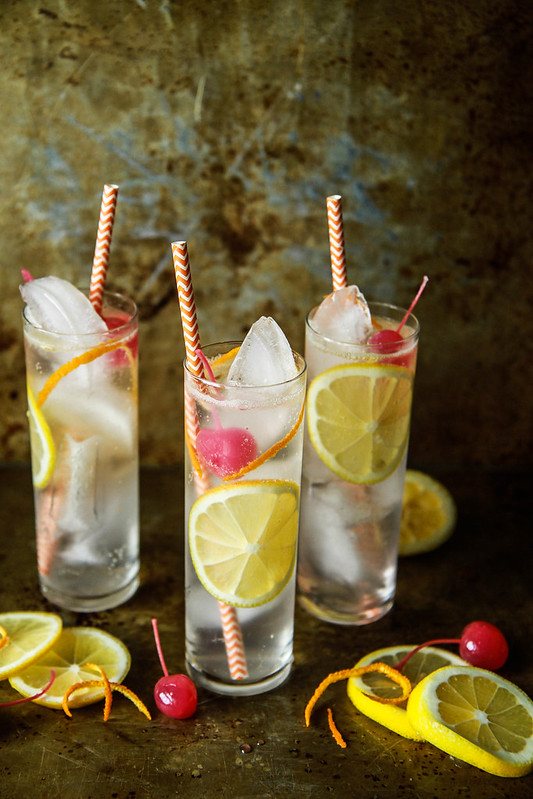 Yandex Photo
Tom Collins has become a gin cocktail of the hour. Some think the Tom Collins is named after 'Old Tom' gin, a sweetened gin that is rarely used today. There are further claims that it was named after the drink's creator.
Whatever the reason behind labeling this gin cocktail Tom Collins, I must admit it makes a perfect summer beverage. The sharp and tangy citrus flavor has a depth of gin to provide you with a soulful drink.
All you need to make this cocktail is a cocktail shaker, lemon, simple syrup, your favorite gin, and club soda. Add sugar or honey to match your preference.
Gin and Tonic
Unsplash Photo
This simple two-ingredient gin cocktail is my go-to version when I want to taste a punchy and strong beverage at any hour of the day. The drink can turn into a disaster if created with average tonic and gin liquor. However, to turn the tables, a high-quality gin with premium tonic water will give you Gin and Tonic experience to remember for ages! 
French 75
Yandex Picture
French 75 is a gin champagne cocktail that combines the naughtiness and bubbly nature of champagne to match the tartness of gin. Serve it in a cocktail glass or Champagne flute to show the friendly side of your personality. This is a perfect contact to be enjoyed in the company of your friends. 
Negroni
Unsplash Photo
Served as an aperitif, Negroni is another sought-after gin cocktail. This Italian drink is made with gin, vermouth Rosso, and Campari. Top it off by garnishing it with an orange twist. It pairs well with Italian Haute cuisine since Campari enhances the punchy flavor of this beverage. 
Gin rickey
Yandex Picture
A gin cocktail could be as sublime as a Keats' ode. Be it a wedding reception or an urge to quench your thirst; Gin Rickey is a sweet and sour beverage to complement all of your events.
With fresh lime and seltzer, this cocktail is delicious while retaining its citrus footprint.
To balance the tangy flavor, add some sugar or honey. It's one of the lightest and best gin cocktails for this season and so after.
Yandex Picture
If a Martini isn't to your taste, then a gin cocktail with lime and simple syrup is the best alternative. Preparing this simple gin cocktail doesn't require any rocket science since you just need two ingredients to make this simple cocktail. This beverage is a good substitute for fresh lime juice to beat hot summer days. 
Gin Fizz
Yandex Picture
Gin Fizz must be well shaken to form a foamy layer on the top of it. It's another gin champagne cocktail that is made with a handful of ingredients to give you refreshing vibes.
Unlike Tom Collins, Gin Fizz has relatively higher bubbles. The foam is produced by shaking the drink with ice. As Gin Fizz contains egg whites, and when you shake it with ice, the result is a thick and frothy top.
Aviation Cocktail
Yandex Picture
The key ingredient of this famous gin cocktail is creme de Violette. This is a rare and most expensive gin cocktail on our list, and this credit goes to its key ingredient. The slightly purplish liqueur is a delicious and lip-smacking drink that you would fall in love with. It's a tad bit on the pricey side, but the taste it provides is unlike any gin cocktail you've ever tasted!
Sloe gin cocktail
Yandex Picture
This is a frothy gin cocktail mix that is a perfect appetite stimulant. This drink is made with sloe gin, egg whites, rosemary sprig, and simple syrup. This drink goes well with light pasta dishes. Unlike other gin cocktails that are usually clear in color, this one has a pinkish-red hue.
Conclusion:
When getting thirsty and the food isn't ready, a gin cocktail comes in handy as they are the perfect pre-meal drinks. Gin cocktails are aperitif, but they let you celebrate all your popular holidays and family events with full zeal and zest. The best part is that these classic versions of gin cocktails are easy to make at home when you know what goes into the recipe!